A Guide to Watching North American Sports in Seoul
---
Unlike EPL fans, any fan of the 'Big 4' is in a bit of a conundrum. Due to time zones, it's tough to watch any game live without sacrificing work or sleep. This is even truer once daylight savings time kicks in. As a diehard sports fan who has watched the NFL and NBA for the past three years in Korea, I feel that I'm qualified to provide you with a definitive guide to watching North American sports in Korea.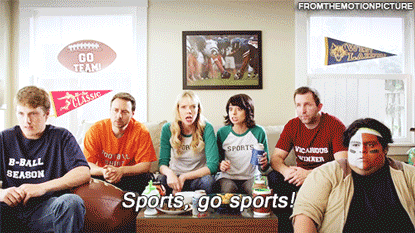 Live Sports -> Irrelevant
Just like Alex Ferguson's retirement made Manchester United irrelevant, living in Korea makes the importance of watching sports live irrelevant.
The whole point of watching sports live is so that you can interact with your friends, either in person (at a bar) or online (through social media). In Korea, you can't go to a bar and watch the game. The timing just doesn't work out.
You could go online and tweet, but it wouldn't be authentic. You wouldn't actually be watching the game unless you decided to sacrifice some sleep (or bailed on work).
Hence, the 'interacting with others' argument is in fact irrelevant. You're halfway across the world. You're not expected to be up-to-date. Don't take watching it 'live' too seriously. It's overrated.
In the end, sports is entertainment. We watch movies and TV shows regardless of release date. Why can't we do the same with sports? Bill Belichik used to watch games on delay (e.g. Spygate). We should, too.
---
Thirsty?
Empty Mugs of Coffee
An empty mug of coffee is not a mug of coffee. Is it?
---
Being Cheap Ain't Gonna Cut It
As Dan Snyder, Jim Dolan, and Jerry Jones can attest to, you can't buy a championship. However, you can buy the best sports viewing experience possible.
A subscription to the NFL is pretty hefty: 4 easy installments of $74.99. That works out to approximately $300 to watch 22 weeks of professional football.
NBA League Pass and NHL Center Ice cost around $150-200 for a whole season. MLB costs...actually, no one cares about MLB (BURN! Choo Shin Soo...BURN! Ryu Hyun Jin...).
In the big picture, spending the money might be worth it. Yo probably aren't paying for cable. If you're a fan of western television or movies, you're probably downloading or streaming. So you might as well splurge on sports.
Even if you don't want to pay, you'll probably have to. There are not too many other effective alternatives. You could stream, but it will be poor quality and you'll also have to watch it live.
You could use Slingbox. However, unless you arrange beforehand to have your TiVo or other television recording device record your game, a Slingbox is useless. It will only relay a live stream from your TV back home. You can't archive it. You might as well pay up because...
Embrace the Technological Age
The Big 4 are ahead of the rest of the sports world. The EPL, UEFA, and all other professional sports leagues don't even come close to what the Big 4 have to offer.
They've done a great job of providing the best interface possible. You can turn off scores. You get HD quality sound and resolution. Best of all, you can load up archived games, meaning you can come home from work and watch Kobe drop 81 in your face without knowing what's going to happen.
The product they are providing is in fact worth the price.
Find a Friend
If you're still worried about cost, find a friend. It can be someone from back home or from Korea.
If both of you log in at the same time, one of you will be kicked from the account. So you've got to stagger when you log on.
A friend from back home would be nice because you wouldn't be using the account at the same time. If you find a friend from Korea, watch the games together or split by day or team.
Mac Users
The Mac crew is in a conundrum when it comes to the NFL. Flash does not work for Apple, so they need to download the Gamepass App. You can only download the Gamepass App from a non-Canadian or non-American iTunes store.
The only way I've been able to get around this dilemma is by logging in with a Korean friend's accoutn. That, however, creates a whole other set of problems.
You could also just buy a PC. The NBA bought out the ABA. WWF bought out WCW. It's only a matter of time until Apple gets bought out.
How to Avoid the Scores
I have found this to be the toughest part.
It's easy staying off social media and the internet. You've got to worry about What's App and Kakao chats and co-workers. Co-workers are the worst.
You'll have co-workers that don't mention a thing about sports. Suddenly, there's a big game and they're blabbing about it during lunch like they give two licks.
You've got to provide the warning early on. Let them know not to mention sports around you, especially the day of a big game.
You also have to watch out for "the dicks". They guys who'll get in your head and play around with you. The ones who start throwing out random outcomes just to F@C$ with you.
Don't act like it bother you or else they'll keep pushing it. They'll be in your head like Super Bowls are in Peyton's head, like MJ was in Drexler's head, like...you know what I mean. Just play it cool with "the dicks".
The Biggest Advantage
I haven't discussed the best part of subscribing to a league pass and watching an archived game: the commercials are taken out.
I repeat: THE ADVERTISEMENTS ARE REMOVED!
The greatest drawback to North American sports is the amount of commercials. Watching an archived game reduces the length or a game by thirty to forty percent. Watching the game on delay removes the commercial factor.
If someone was in Jerome Bettis's way, he'd run them over. I want you to do the same to commercials. Run them over.
Other Things to Consider
If you're serious, you might want to invest in a TV and hook up your laptop. Just make sure you have the requisite input/output wires and slots.
Costco allows you to return television every six months. I haven't done it myself, but I have a cousin in Korea who does it all the time (meaning twice a year).
If you want a veteran to help you out, get on Craigslist or a foreigners' group on Facebook.
The Wrap
Coming home from a hard day's work, cooking up some dinner, and having the game on in the background is part of my weekly routine. Especially during the winter.
Watch the 1st half while I cook. Go for a quick shower. Come back, watch the 2nd half and eat dinner. It's an amazing combo.
Just because you're in Korea doesn't mean you can't have the same comforts as home. Make some adjustments, splurge a little and enjoy the fruits of your labor.
Kind of sounds like the formula for a winning team.
---
Leave A Comment